Flight Control Replay Professional Edition – I've waited for an add-on that will replace the old FS Recorder in both FSX and P3D. Flight Control Replay does that. How does it work? My first impression.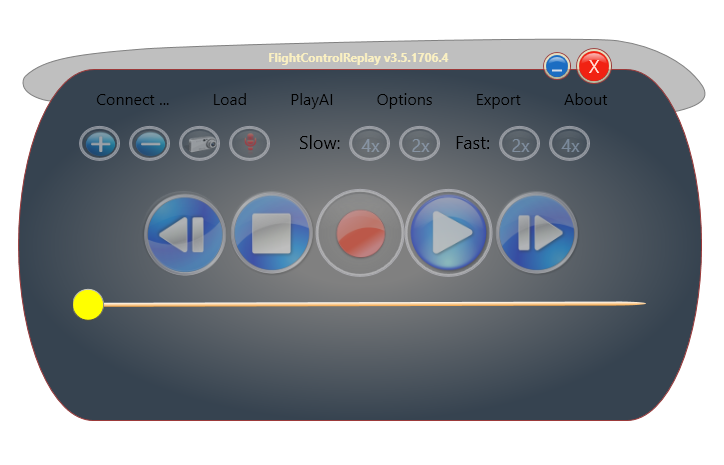 Flight Control Replay
The software is being developed by Fabio Merlo as a payware recorder. You can buy it in Simmarket for 18.45 Euro (the price may be a bit different depending on the tax).
The main function of the FCR is to record and play a flight in FSX or Prepar3d. It saves a number of parameters in a set interval and adjusts the position of the plane and features like gear, flaps, and radios when the flight is played. In this role, it's going to be most useful to sim videographers who can use it to make several shots of the same scene. Flight recording also allows the videographer to focus on flying (when the flight is being recorded). All additional frames can be later filmed from the recorded flight.
But there's more. Flight Control Replay can also record audio and exports flight data in Google Earth (or Google Maps) format. Pilots who are interested in improving their flying skills can use it as a flight data recorder for later analysis.
A successor to the FS Recordere? Yes!
For a long time, videographers used FS Recorder to capture their flight. It was an impressive freeware add-on, that was (unfortunately) abandoned by its developers several years ago. The latest (and the best) version 2.1 and 2.18 (alpha) does not offer any support to either FSX:SE or P3D users who had to stay with an older version 1.3. Neither works with P3Dv4.
From my perspective, the FS Recorder had several flaws. It offered limited compatibility with the most advanced add-ons. Some add-ons (like the Aerosoft's F-14) were nearly impossible to work with due to incorrect effects use in recordings (It's not entirely the fault of the FS Recorder, but the lack of support made it impossible to solve the main problems).
This is where the Flight Control Replay Professional Edition can be viewed as a proper successor.
Compatibility
According to its description it works with PMDG planes and Aerosoft's Airbus. I've tested it with A2A planes and Aerosoft's Twin Otter and at the first sight – it's quite correct. With that said – keep in mind that there are some limitations when it comes to the recording of advanced aircraft.
Flight Control Replay Professional Edition is compatible with FSX, FSX:SE and P3D (including the v4!).
First impression – I like it but there is a place for improvement
My first impression was good! It's easy to operate, the menu is intuitive for anyone who used FS Recorder in the past. For those who did not – I can't imagine anything simpler – with the interface based on a typical recording device with the record, play and stop buttons – you have to like it.
The flight can be played in two modes – the direct "Play" mode places the pilot in the cockpit. All cameras are functional (including EZ Dok cameras). The flight is smooth in both cockpit view and external aircraft-views. I noticed a visible stuttering in other external views, especially with the camera pointed perpendicularly to the flight path.
The same happens in Play as AI mode. Jagged, stuttering motion is visible from a small distance as the plane position is updated. Play as AI this would be a great tool for formation flights but unfortunately – with jagged motion close formations are impossible. Play as AI works well when the aircraft is observed from a distance of 0.1 or 0.2 miles (or more).
Play as AI works well when the aircraft is observed from a distance of 0.1 or 0.2 miles (or more).
These issues are known to the author and hopefully, they will be solved soon.
Development
I was really impressed when I saw playback speed adjustments in the current version of the software. Just three months passed since users pointed out that replay speed adjustment is necessary and the feature has been included! I'm impressed by the time of the reaction! I've already exchanged emails with the developer and I think he's on the right track and the app will be improved continuously.
Tutorial – soon at C-Aviation.net
Check C-Aviation.net in a few days for the tutorial I'm writing. It will cover all the features and show the software in detail.